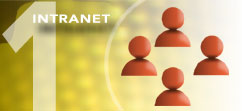 Communications Within Your Company
Helps your employees collaborate and work more efficiently and make it easy to share business information such as contracts, documents, and calendar events. Also helps reduce paperwork and eliminate the problem of having multiple copies of documents around the office. All of your information is available wherever and whenever you need it. and is ideal for companies with branch offices or whose employees travel or work from home.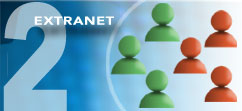 Communications Between Your
Company and Customers
Helps manage your information with customers and suppliers. Features provide an interface to items such as your product information and specifications, warranty, maintenance, and support information. This enables you to give your customers and distributors exactly the information they need, whenever and wherever they need it.
Members Can Publish Their Own Content
Personal portals and homepages for each of your members to publish their own content, access yours and communicate with each other anywhere, anytime. Increase communications with discussion forums and reduce customer support costs with an automated help system and knowledge base.